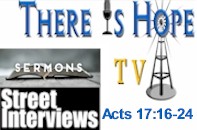 There is Hope TV is an outreach ministry of Seattle Open Door Church. Senior Pastor Richard D. Dover is the television host. There is Hope in a hopeless world through Jesus Christ.



There is Hope TV Broadcast Time
There is Hope TV is broadcasted in Seattle/Renton/Seatac/Tukwila/Burien, Washington on Cable Channel 77 on Sundays at 7:30am. In Seattle we have reruns on Sundays 10pm and Wednesdays at 11:30am.

You can also watch There is Hope TV on the Internet anytime by clicking on this link.

Radio Host Pastor Richard D. Dover
Prior to There is Hope TV Pastor Rich hosted There is Hope Radio for 5-1/2 years. There are over 240 podcasts from previous shows located in the There is Hope Radio Archives.
Programming of There is Hope TV
There is Hope TV has several different program formats: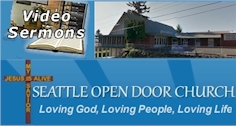 Sermons and Teachings:
There is Hope TV will be broadcasting videos of the Sunday morning sermons/teachings of Pastor Rich of Seattle Open Door Church. Pastor Rich is committed to sharing the biblical principles found in the Word of God in such way that gives hope to the listener. But not only giving hope, but teaching how to live a victorious, overcoming life through Jesus Christ.
Seattle Open Door Church's vision is very clear. We believe in Loving God, Loving People, Loving Life. If you love love God, you will ultimately love people. If you love people you will love life. Too many people are trying to love life in a very selfish manner and they are just chasing after the wind. We need to chase after Jesus. When you find intimacy with Jesus, you will start to have compassion for people and you find a joy and purpose for living.

You can watch previous sermons by clicking on this link.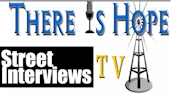 On-the-Street Interviews: 
Pastor Rich for several years ministered on the streets of the Capitol Hill neighborhood in Seattle. Prior to that when he was working in the secular world he would interact with employees, co-workers, and clients, sharing the Gospel and the principles of Scripture whenever he had the opportunity. He has a passion to share the Gospel in any environment.
Starting in Feb 2016 Pastor Rich will be on the streets of Burien/Seatac/Tukwila/Seattle area and doing on-the-street interviews. He will be talking with Muslims about their faith and finding ways to share the Gospel, talking to individuals about what they think about Christianity and the Bible, and getting peoples perspectives on the issues of the day. In the midst of the interviews he will be sharing the Gospel of Jesus Christ and the biblical principles found in Scripture. This interviews will be broadcasted on There is Hope TV.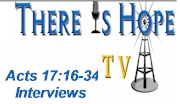 Acts 17:16-34 Interviews
In Acts 17:16-34 Apostle Paul was in Athens, Greece and he was troubled with all the false gods. He spoke to the scholars of the day using reason and logic to challenge the pagans and to lead Jews and God-fearing Gentiles to Christ. In America, and specifically in the Seattle area we have a multitude of false gods, false prophets, false love, etc. Pastor Rich will be interviewing musicians, scholars, educators, politicians, atheists, agnostics, pagans, etc In the midst of the interviews he will be sharing biblical concepts and challenging the interviewees to consider Jesus Christ.
Volunteers Needed
If you have a desire to be involved in Christian media, we are in need of volunteers to help with video production and editing, web work, and marketing. If interested go to our contact page.